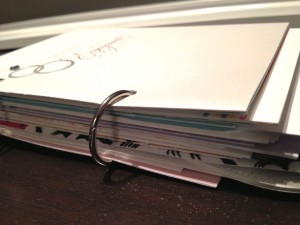 Don't know what to do with all those Engagement/Wedding cards? Make a Card Book to keep those memories forever!
These are super easy to make! All you need is a hole puncher, metal ring clasps, and cards from your Engagement Party or Wedding!
If you have a large stack, I recommend putting a hole in the top corner and only using one ring clasp
Here is our Engagement Card Book..
And our Wedding Card Book..
(We had to make two books for all of our wedding cards!)
Enjoy your books!