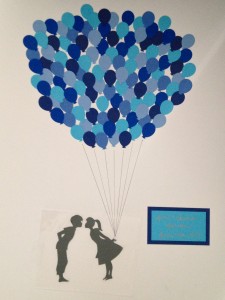 I didn't want a traditional wedding book for my wedding. Because I feel like 99% of the time, it gets signed, goes into a bookshelf or storage and is never seen again. I wanted something that I could frame and have as a memory forever!
Instead of doing the ink/fingerprint one, I wanted something people could write their name! And now it's framed–hanging on our wall!
Supplies:
16″x 20″ Art Board (From my local craft store)
Cardstock (I used Turquoise/Light Blue/Navy Blue from a value pack from Michaels–Even though my wedding colors were Purple&Gray, I decided to use these colors to match our house!)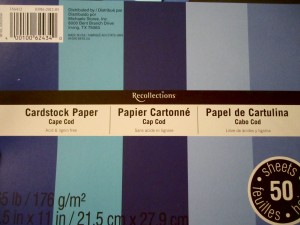 Hole Shape Punch of your choice (make sure it is big enough for someone to sign their name!)
(I used Martha Stewart balloon shape)

A Pen & Ruler or Straight Edge (to draw balloon strings)
A silhouette, bike, etc print out (for the bottom picture)
X-acto knife (to cut the previously mentioned picture out)
Glue
Sharpies (I used black and silver for my guests to sign!)
1. Punch design from your colored cardstock
2. Glue balloons to Art board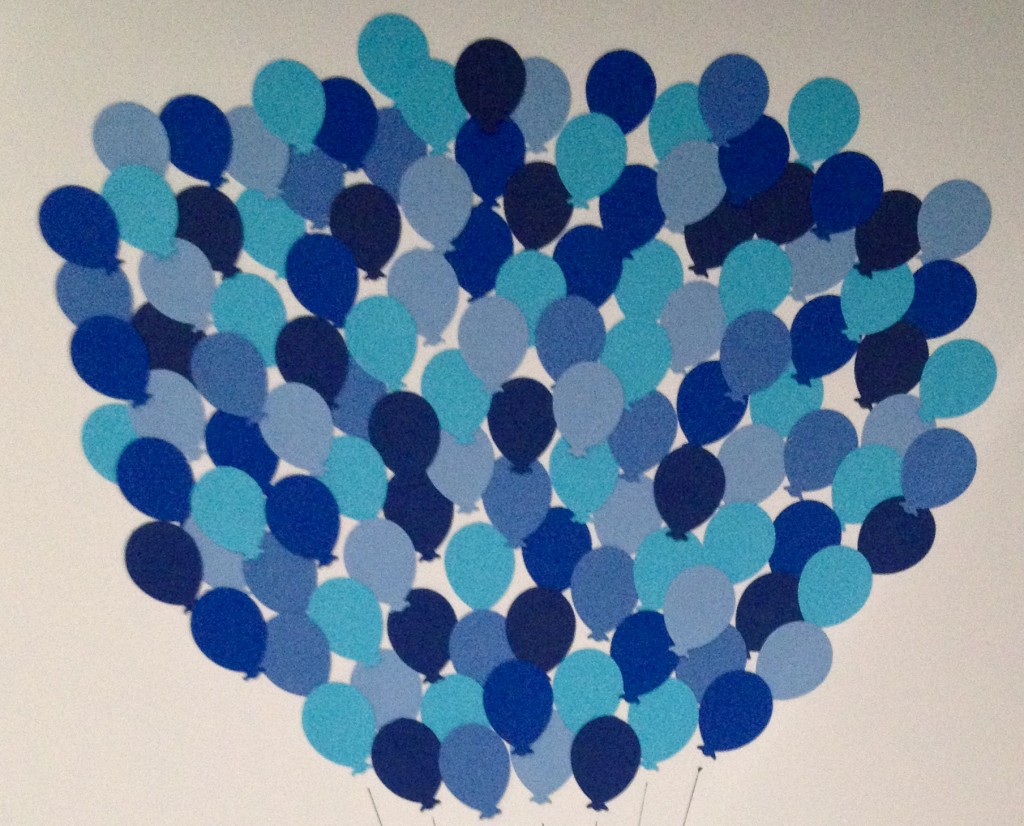 3. Draw lines with Pen & Straight Edge/Ruler for the balloon strings
4. Print out silhouette/bike/design of your choice on cardstock from the internet
5. Use the X-Acto knife to cut it out
6. Glue your design to the Art Board under the balloon strings
7. Cut a small rectangle out of cardstock of your choice, write Bride&Groom's Names and the Wedding Date! and glue to the Art Board
8. Display at your wedding with sharpies for your guests to sign! (We had a small sign that read "Please Pick a Balloon and Write Your Name!")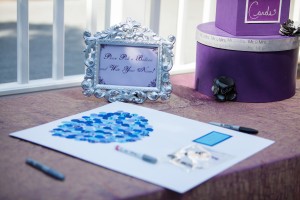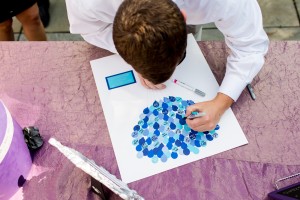 Top two photos courtesy of our wonderful Wedding Photographers – Procopio Photography
9. Frame, hang on your wall and admire for years to come!