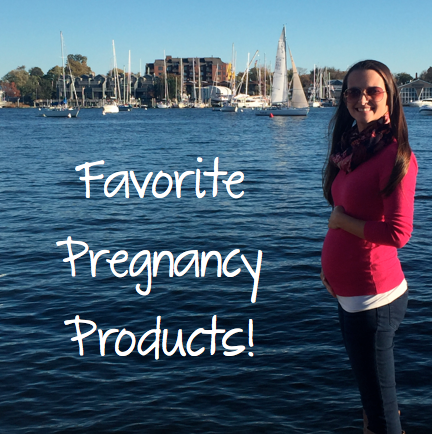 Here is a list of my favorite items that I've used during this pregnancy!
Preggie Pops: To take the edge off of morning (all-day) sickness, I really liked the all natural preggie pops.. Although nothing could take the sickness away, these definitely helped a little bit!
2. Pre-natal vitamins: I prefer gummies to actual pills so these are by far my fav! They do NOT contain iron, which can cause nausea so I especially appreciated that during the first trimester. However, if your iron level is low, your OB or midwife will recommend you take a prenatal vitamin that contains iron or a separate iron supplement. This type of gummy is sold by Vitafusion and Up&Up (Target brand, which is always cheaper!) And bonus! It does not contain RED40 as a coloring agent.
3. Snoogle: I LOVE this pillow! The back support and hip support has really helped. I also like that you buy a cover for it, so it can be taken off and washed. I wish they had some cuter covers though! I ended up just buying a dark heather gray one.
4. Maternity Jeans/Jeggings: This totally depends on when you will start to have a big belly! Some people get away with not investing in maternity jeans because they're pregnant for the summer/fall. I, however, have been pregnant throughout the fall into the depths of winter so it was definitely worth the investment for me! Motherhood Maternity frequently has a Buy One, Buy One 50% sale; I bought 1 pair of Jessica Simpson jeans and a pair of dark jeggings. Both are SUPER comfy and fit extremely well!
5. Burt's Bees Mama Bee – belly butter: There are varying opinions about whether any product works for stretch marks.. but why not use it just in case? I chose this one because it's not greasy and it's all natural!
6. Shea Moisture Vitamin E Oil: I didn't realize that my belly would be SO ITCHY as it started to stretch, especially around week 25+. Even though I was using the belly butter every day, I needed something else to help so I started using this oil, and it has worked wonders! I usually put it on after the shower, let it dry for a minute or two and then put the belly lotion on top. I hate feeling oily, but this product rubs in very well and doesn't leave you feeling oily or greasy!
7. Apps: The Bump, OBaby, and BabyPics [All found in your app store] The Bump is a fun way to keep up with your pregnancy; it tells you what size fruit/veggie your baby is comparable to and how your baby is growing, adds new informative articles every day, and has a photo log to document your growing bump! OBaby and BabyPics are two apps that have cute sayings, doodles, and pregnancy artwork to add to any photo!
8. Gilligan & O'Malley Nursing Bra: I know during pregnancy you have no use for a nursing bra, but I needed a larger bra and something that was super comfortable (for those sore ladies). This bra is SO SOFT and it will be perfect for when the little one arrives!
9. Any Pregnancy Safe Product! Many people don't think about all the chemicals that their daily routines contain. But, I highly encourage you to look into the products that you use before you're even pregnant! If you don't already buy all-natural products, there is a very high chance that what you use contain parabens, fragrances, aluminum, and many other chemicals that are classified as neurotoxic and hormone disruptors. You may not think that your mascara is going to affect your baby, but everything you put onto/into your body exposes your baby to those same chemicals!
Check all of your makeup, perfume, lip gloss/chapstick, shampoo/condition/bodywash, lotion/sunscreen/BB cream, hair products, self-tanner, toothpaste, bug spray, and all your cleaning products.
Safe brands include: Tom's, Shea Moisture, Burt's Bees, EOS, Alba Botanica, 100% Pure, Gabriel, Honest Company, Pacifica, Acure, J.R. Watkins, Better Life, Seventh Generation, Tanceuticals, etc. Many of these brands can be found at Target, Walmart, and Whole Foods!
I will be posting a separate blog post with all of the specific natural products I use! Stay tuned!
10. Think Dirty App: Relates to the above. This app is fantastic! You can scan just about any product; it rates the item from 0-10 and explains what is in the product and if any ingredients are toxic, it explains what it is and why!
That's it for now! What things did you love to use while pregnant??