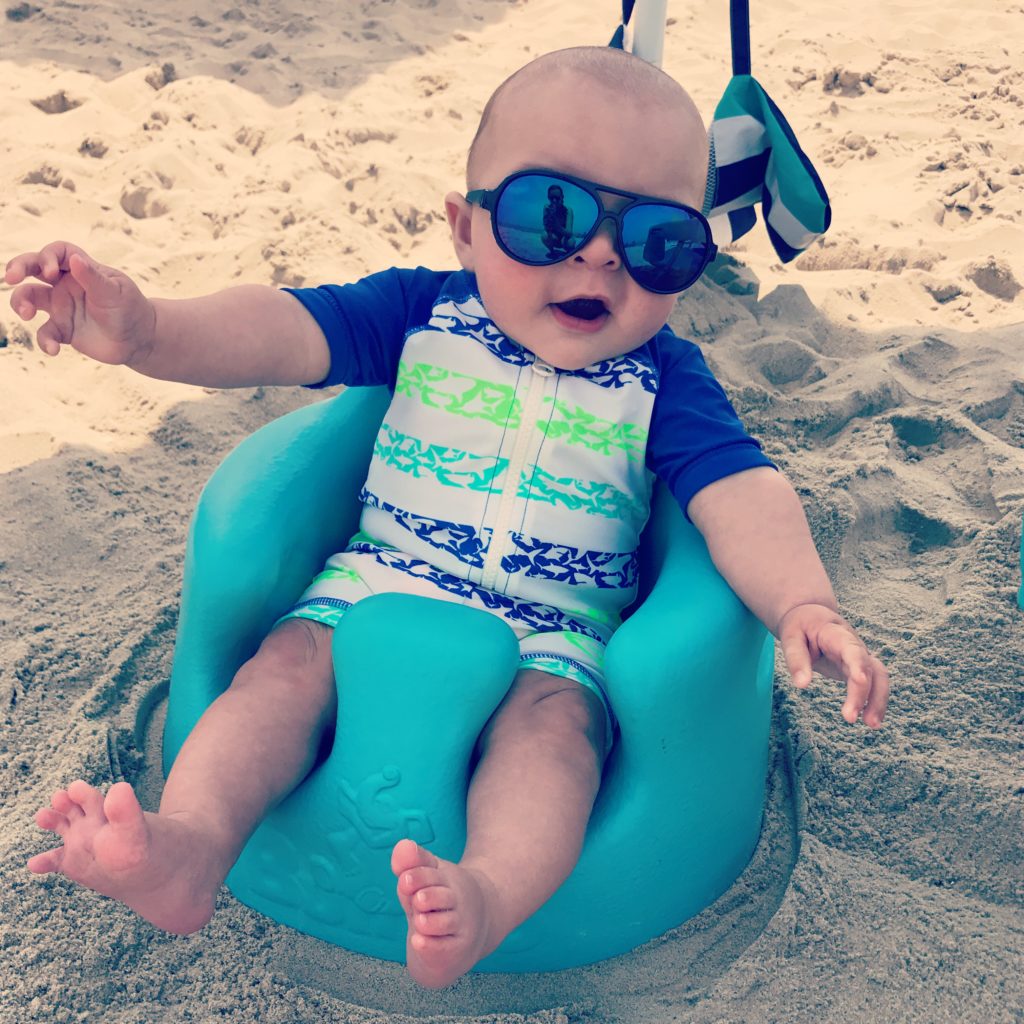 We were so excited for our first family beach trip with our baby this past summer! But, I wasn't quite sure what all to pack to make our lives easier at the beach (without bringing our entire house along!). I'm clearly no expert so I looked up some things online and reached out to friends on Facebook. This is the ultimate list of tips & tricks for taking a baby to the beach! Some things worked better for us while some things worked better for others.. every baby is different but hopefully this list will give you some help with figuring out what to pack!
1. A canopy, beach umbrella or baby tent – Even if your baby is old enough to wear sunscreen, they shouldn't be in the direct sunlight.. so providing shade is a must!
2. Sunscreen – I always prefer all-natural or as close to all-natural as possible; so I suggest using California Baby or Honest Company Sunscreen for your little one.. I use it as my sunscreen too :)  [It's not recommended to put sunscreen on babies less than 6 months old – always consult your pediatrician for their recommendation]
3. Beach Hat – I loved the hat we bought off of Amazon! [here] It is SPF50+ fabric, soft and adjustable to fit any baby 0-6months. It also comes in a variety of cute colors!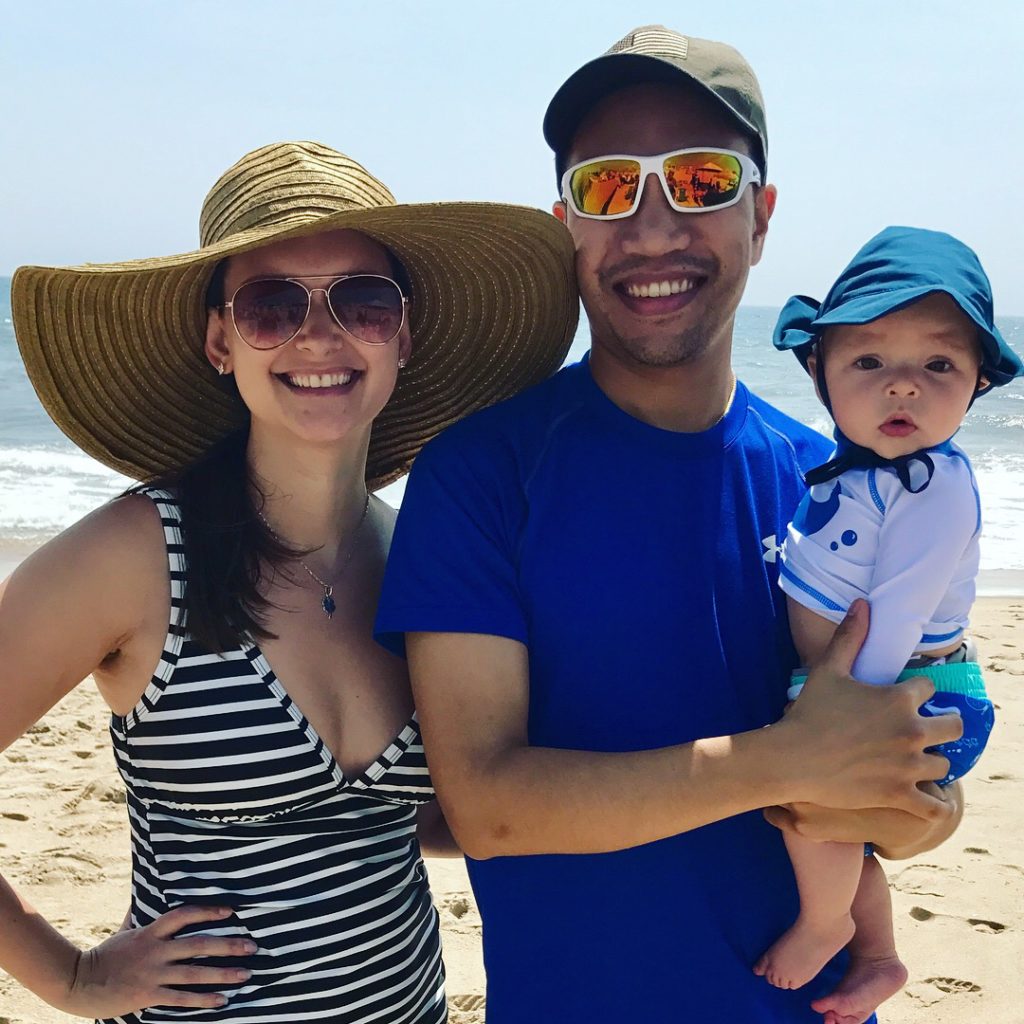 4. Twin Fitted Sheet – This is a great way to keep an area virtually sand-free! Use the fitted sheet upside down and place items in each corner (i.e. cooler, beach bag, etc). This creates a great space for baby to be changed in, take naps, or just hang out without getting sand all over them! We had a queen sized sheet but I don't think we needed that much room, a twin would work just fine!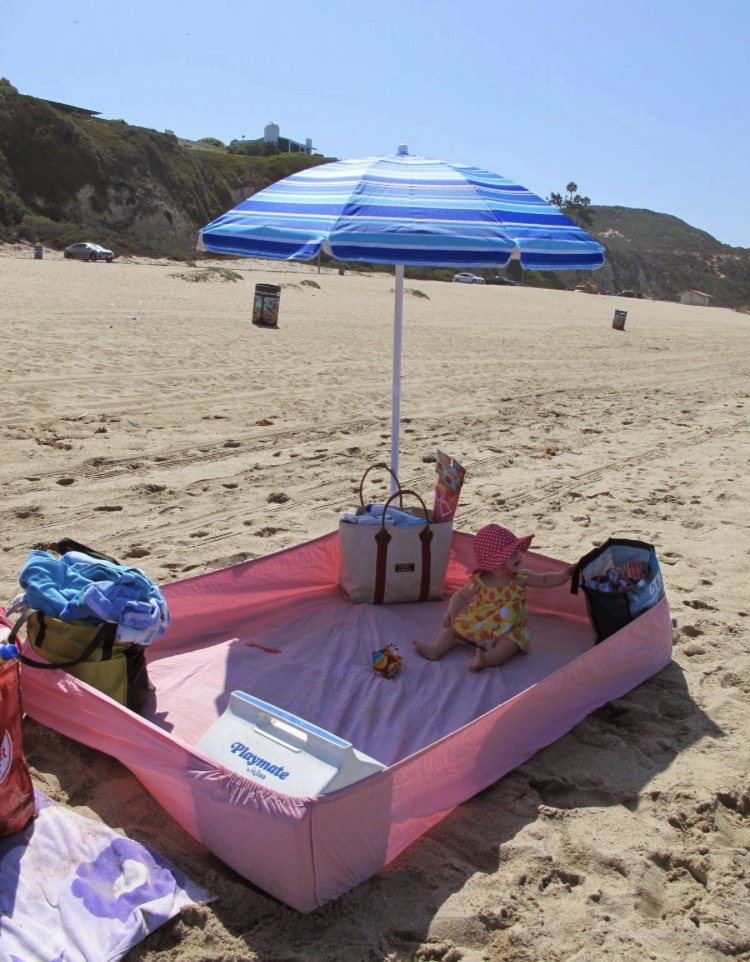 [Above picture from google images]
5. Plastic Infant Bath Tub or Small Baby Pool/Splash Mat – Bring your baby's bath tub and a jug or bucket to fill it with some tap water to bring to the beach! (Probably not a good idea to use ocean water) If they are able to sit up on their own, a small splash mat or baby pool would work! Great way to keep baby occupied and keep them cool in the heat! You could also bring some baby water toys for more entertainment. [This was a great suggestion from a friend, however, Landon isn't such a fan of water yet haha, so we didn't end up doing it]
6. Soak a Burp Cloth – Babies can get overheated very quickly! We would wet a burp cloth with water we brought in our cooler and place it on his head/hands/feet to cool him down from the heat!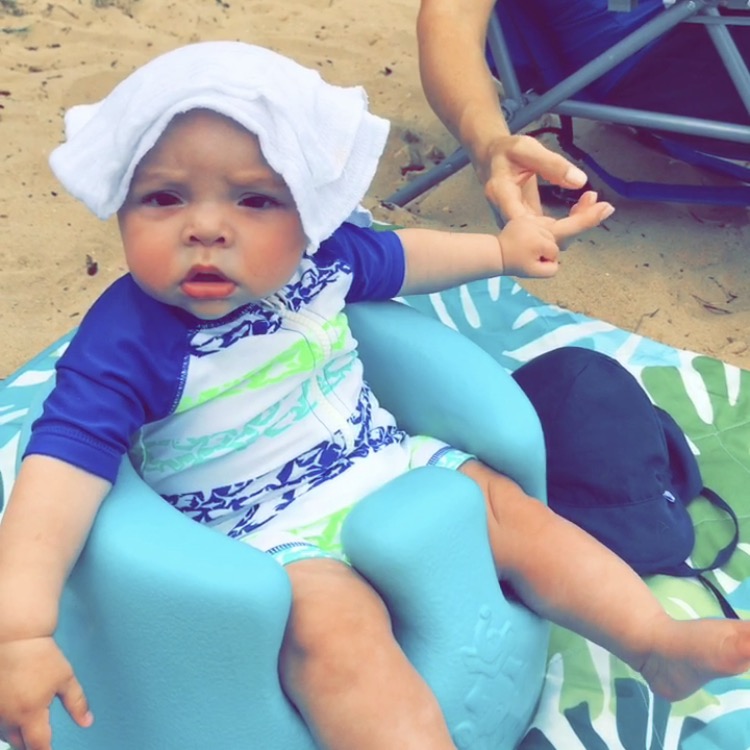 7. Bumbo Seat – He LOVED just sitting in his Bumbo seat and taking it all in! He would have sat in there all day if we let him :)
8. Baby Bjorn – This made carrying him back and forth from the condo to the beach much easier! I'd just strap him in and was still able to carry a bunch of stuff! We would periodically take him up to the condo to nap in the A/C
9. Beach Cart or Wagon – This is a great investment whether you have kids or not! Lugging all of your stuff to the beach is so much easier with one of these!
10. Swimsuit or Light Clothing – Some baby swim clothes are made with SPF fabric, which is great! Otherwise, it's just important to keep them cool with light clothing, such as a onesie. We didn't use any swim diapers since he wasn't getting in the water so he just had his regular cloth diapers on with his cute swim gear!
11. Swim Diapers – Since we never had him in any type of water, we just kept him in his regular cloth diapers at the beach. However, if you plan to have your baby splashing in their little pool, you may want to pack a few swim diapers! One thing to remember, swim diapers do NOT hold in liquid [that's the whole point, so that they don't get heavy when in water] so just know that it will not contain their pee!
12. Beach Bag as a diaper bag – I packed a small separate beach bag with all of his extra stuff (diapers, wipes, clothing, pacifier, baby bath towel, etc!) so that his regular diaper bag didn't get any sand in it!
13. Baby Sunglasses – Not necessary but how cute is he in them?! :D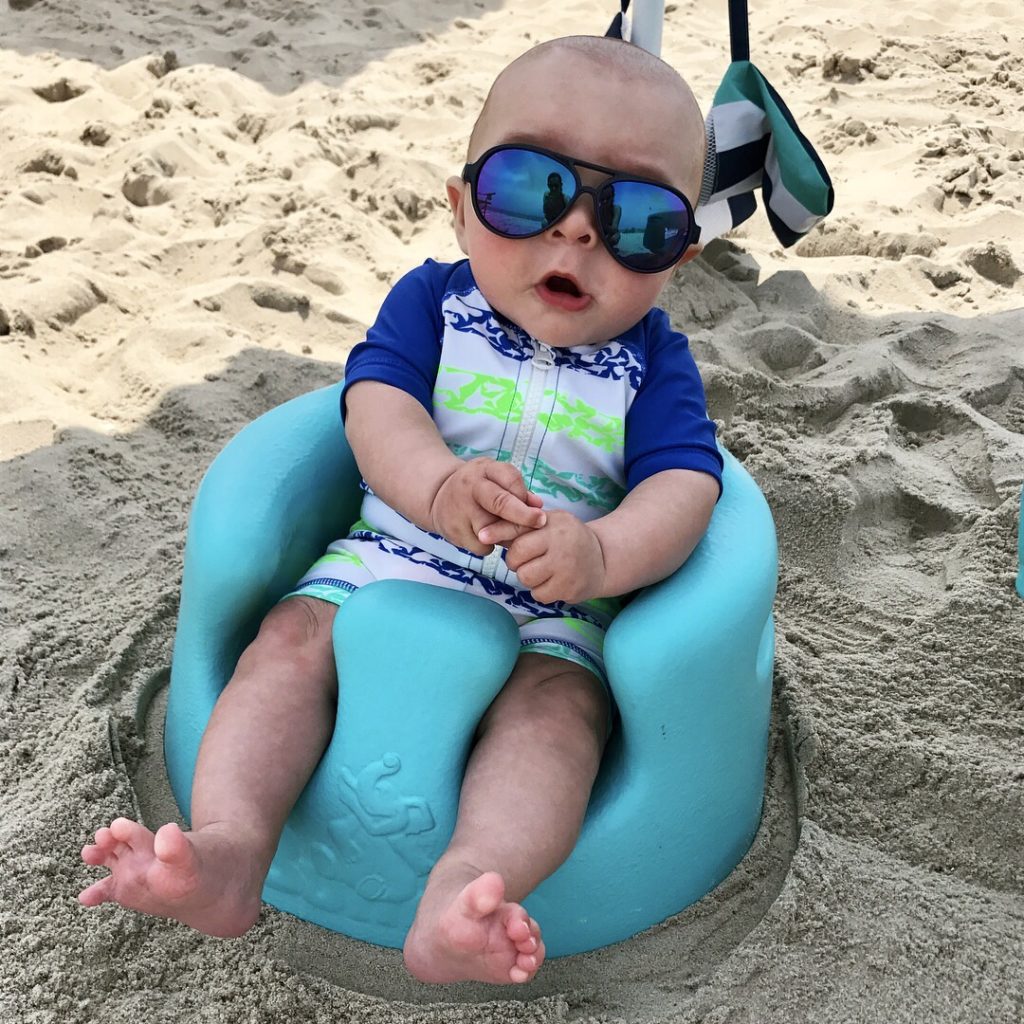 14. Boogie Wipes – These are great for when they get their drooly hands covered in sand haha!
15. Lastly, I've seen these cool Pop Up Playards – Not necessary for infants, but will definitely come in handy once baby is on the move!
What else did you find worked well for the beach with your baby? Comment on Facebook!