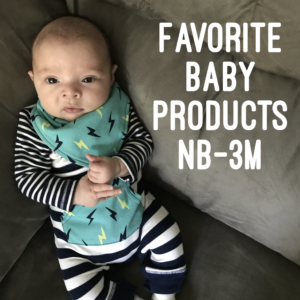 There are so many baby items nowadays.. it can be more than overwhelming when deciding what to buy/register for! Here is my list of things we used the most in the first three months.
This is by no means a full registry list.. it's just a few of my 'favorite things!"
Large items:
1. Automatic Rock 'n Play – We also had the expensive Mamaroo but he definitely preferred his Rock 'n Play! And the automatic feature is a must!
2. Click Connect Stroller/Car Seat (or other "Travel System") – I loved having the stroller that went with my car seat! It is extremely convenient to leave your baby in their car seat and click it right into the stroller! Doctors appointments, taking walks, going to the mall, etc.
3. Binxy Baby Cart Hammock – One of my absolute FAVORITE things! It makes it sooo easy to shop! It holds the car seat when they're newborns and then it holds them comfortably until they're able to sit up on their own and can sit in the child's seat of the cart. I have used it countless times and AT LEAST 3 people ask me about it every time I shop!
4. Lillebaby 6-in-1 Carrier – This carrier is great! Any time baby was fussy and just wanted to cuddle, I would strap him in the carrier so that I could get stuff done! It has amazing back support, is breathable, and can be used in different positions when they're older! This was great for taking him into stores that didn't have carts! [We have a baby bjorn (was given to us for free) and it's nice for little walks but not for extended amounts of time.. it hurts my back after about 10 minutes! So a more structured carrier was perfect for me!]
5. Boppy Pillow and Cover – Can be used for breastfeeding, propping them to bottle feed, positioning them for tummy time, assisting when they start sitting up, etc!
Essentials:
1. Gerber White Burp Cloths – No need to buy fancy ones.. they just get covered in spit up! The best ones we have are the simple "Gerber Cloth Diaper" ones. Landon had bad reflux so we used them A LOT.
2. Aden and Anais Swaddles – These are by far the best! They are pricey but sooooo worth it. They're large (44×44) and super soft! Target now carries something very similar in their own brand.. and a little cheaper :)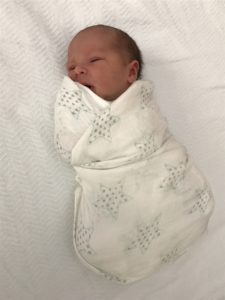 3. Mittens & Hats Sets – Newborns have sharp little nails and scratch themselves (even when you constantly file them!) so mittens are a necessity. Hats, more so for cold weather newborns.. however, if your house is rather cool from A/C, they should still have a hat on! Newborns lose heat easily, especially from their head!
4. Zippered Sleep 'n Plays – Snaps are the devil when you're trying to change your crying baby in the middle of the night.. so when buying sleep 'n plays, look for the zippered ones! Our son pretty much lived in these [and he still does on days that we don't leave the house ;)]
5. Wubbanubs – Landon only took a paci for a little bit but they were lifesavers at the time!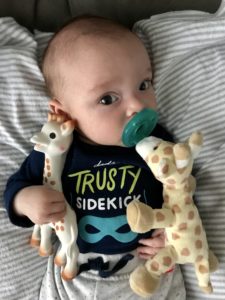 6. Pacifier Clips – Use for more than just pacifiers! I attach these to any little toy/teether so that when we're out running errands or he's in the stroller, nothing gets dropped onto the ground!
7. Receiving Blankets – Use for just about anything! Roll and put under their armpits for tummy time, keep baby warm in their car seat, place over boppy while they lay on it (so that you don't have to wash the boppy cover every time they spit up!)
8. Car Seat Cover [We had a JJ Cole one for cold weather and a Copper Pearl one for warmer weather]- Cold weather babies, get a snuggly one. Warm weather babies, get a light fabric cover. Either way, you want people keeping their germs away! We have both! [The Copper Pearl one can also be used as a breastfeeding/pumping cover and for use in the front cart seat for when they can sit up in the cart!]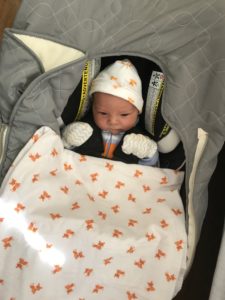 9. Small Mesh Laundry Bag – I have one hanging next to his laundry basket for little things like socks, mittens, etc. They easily get lost in the laundry so it's much easier to wash them in the little mesh bag!
10. Munchkin Plug-in Sound Machine – A lot of sound machines are battery powered only, so we went through a lot of batteries! I found this one and we love it! It plugs in, has a timer, and even has a projector for the ceiling.
Feeding/Diapering:
1. Dr. Browns Bottles – We tried other brands and these were by far the best for us!
2. Drying Rack – Sometimes it feels like all you do is clean bottles & pump parts.. this rack was a space saver and is easier to clean than the 'grass' ones.
Other:
1. Board Books – It's never too early to read to a baby!
2. Bright Starts Mirror toy – A lot of babies hate tummy time.. but they LOVE looking at themselves. This mirror is safe and fun!
3. Soft & colorful toys for play time! A playmat is great to have too!
4. Owlet monitor – I didn't have this with our first baby, but I will 100% be getting it for my next baby! It would give me a lot more peace of mind; especially in the newborn phase!
What were YOUR favorite things from newborn to 3 months? Comment on Facebook!